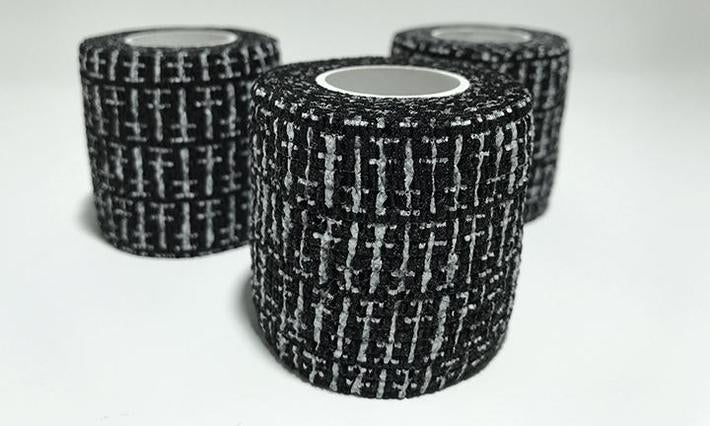 TRUE TATTOO Logo / Black Grip Tape
Tattoo Grip Tape™ is a comfortable, self adhesive, expanding, cotton material tape wrap for tattoo tube grips providing extra cushioning and grip for the tattoo artist's hands while tattooing!
Tattoo Grip Tape is designed to provide the artist with a more comfortable grip or to bulk up an existing tube grip. Tattoo Grip Tape is a self adherent wrap that is constructed using elastic fibers and a non-woven cotton material that sticks to itself, but not to your skin or gloves. Tattoo Grip Tape is also a great alternative to regular or medical tape in any tattoo situation.
Tattoo Grip Tape is easy to wrap around any tattoo tube, is comfortable, porous, lightweight, and removal is quick, easy and pain free. Also, Tattoo Grip Tape works great for bandaging your clients new tattoos. Every roll of Tattoo Grip Tape is individually wrapped for clean use with every roll so that it is protected until used. Each roll measures 2" wide by 5 yards long when stretched (Please Note: If not stretched it measures 2.2 yards long).  This product is latex free and comes in True Black only!

TATTOO GRIP TAPE:

Self-adhesive Tape Sticks to itself, not skin or gloves.

Porous, lightweight and comfortable for artists grip.

Reduces vibration and Gives tattoo grip a softer cushion.

NO sticky residue on polished steel grips or surfaces.

Cotton Tattoo tape is easily torn without scissors.

Wrap more tattoo grip tape to increase grip width.

Also good for bandaging your clients tattoos.

Individually bagged for clean single use each roll.

Latex free / available in True Black / 20 rolls.

Works great over our larger True Tubes like Rogue Cartridge and more!

Box Quantity: 20 rolls