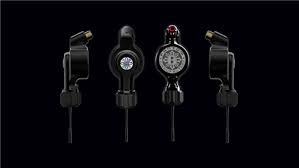 BISHOP FANTOM ROTARY MACHINE WITH PREM. RCA CORD
Introducing the new FANTOM Cartridge Machine from Bishop Rotary. A first of its kind and in its own class entirely with a fully enclosed motor and branded as the smallest cartridge machine available on the market. This Fantom is compatible with most cartridge grips, disposable or autoclavable, fixed or adjustable.
Two years in the making, powered by a unique 9 Volt 5 Watt motor.
With an adjustable stroke option, as well as preloaded give plunger bars and regular stiff bars as well. The industry are very excited by this new machine as it is perfectly weighted and artist feedback says it feels lighter than a pen.
But let's not forget, "pens" are made for drawing, this is a tattoo machine.